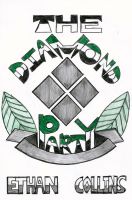 A single father struggles to raise his family in a modern Mobocracy.
Read how the four corners of a square can rotate to become sharp points of the diamond, and discover how deadly high school relationships can be. 
After Brandi Monroe, a soon to be freshman at Goodtown High, goes missing during an end-of-summer beach party her friends suspect she's swimming.
But her body is discovered the next morning drowned in the ocean and David Miller, a single father trying to raise two teenaged children since his wife Mary died of cancer, realizes Brandi's boyfriend, Joey Young, may have something to do with the young girl's death. Then his daughter Adele is asked to go on a date with him.
David uncovers more than a homicide as Goodtown residents find their place within The Diamond Party, a system of governance fortifying its rule in Goodtown.
In this coming of age tale, a single father's bravery leads him to become the victim of circumstance after good men fail to stand against diabolical plans. The Diamond Party has united two sides of life within a secretive hierarchy. And David's children are left passing into adulthood far too early. To read More Purchase This Boo Here For $9.49