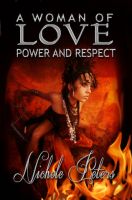 "I want nothing more than for every young girl to grow to become "A Woman of Love, Power and Respect." Based on a true story, author Nicole Peters relates the trauma and turmoil of her young life, growing up in the 80's. 
Raised by a single mother working to pay the bills, young Nikki grows up in in Louisiana's lower-class Redmond Heights projects. As an illegitimate child, an adolescent Nikki is spurned by her father, eventually leading her to make poor choices in her young adulthood. Sassy, popular, boy-crazy, and living life in the fast lane, a once confident Nikki grows up haunted by demonic visions and nightmares, which led her to the point of complete physical and emotional breakdown.
A Woman Of Love Power And Respect takes you on a journey through the life of a young woman raised in degradation who fights like hell to escape feeling imprisoned by spiritual and emotional pain. In this poignant drama, her account of her hardship as a child, struggles as a single mother of disabled children, and ultimate triumph over her abusive past, makes for a glorious story of how God can bring healing to those scarred by their past.